None of our properties require a guarantor, and all of them welcome foreigners.
We'll even help you understand Japanese customs!!
Features of the foreigner-only apartments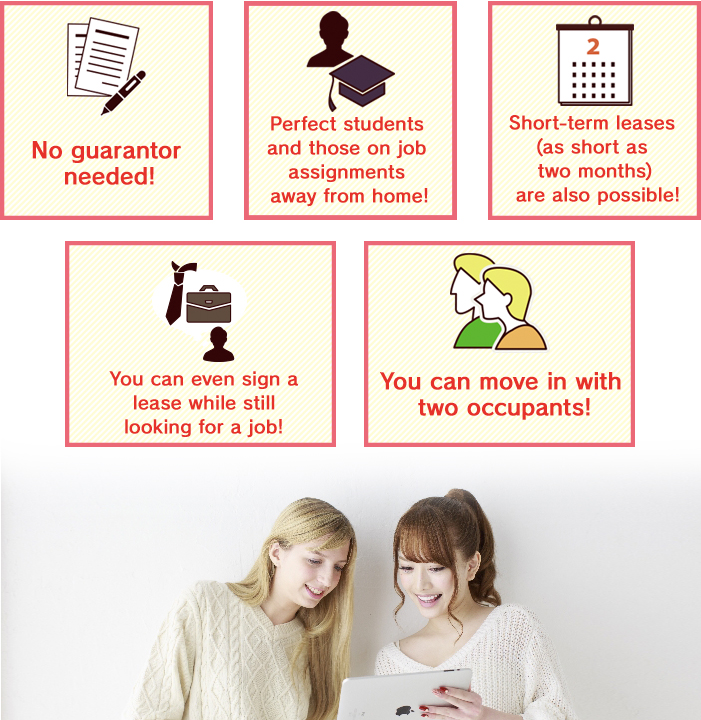 Property details
■ Apartment name
Etrangere Konohana
■ Rent
20,000 JPY
■ Apartment fee
3,500 JPY
■ Water bil
2,700 JPY
■ Neighborhood association fee
Actual cost
■ Parking space
None
■ insurance
Purchase of fire and home contents insurance (to be discussed)
■ Facilities in each room
Gas stove / Lighting / Refrigerator / Microwave
On each floor: One washing machine

【 Floor plan 】

【Building exterior】

Procedures for renting
Inquiry and viewing appointment

First, make an inquiry about the property.
A representative will help you arrange a date to visit us and to view the apartment.
Viewing the property

After arranging an appointment with us, you can view the apartment with your representative.
During the viewing, you can check the apartment facilities and the neighborhood.
Lease application

After the viewing, if you choose this apartment, you must first apply for a lease.
Fill in the necessary fields on the application form, and submit it to us along with the following necessary documentation.
-Your residence card
-One of the following: Driver's license / Health insurance card / Student identification
Review

After submitting your application, it will be reviewed.
In certain cases, it is possible that your application is denied.
Please understand.If you have any questions, don't hesitate to ask your representative.
Preparing the lease

Once your application has passed the review stage, you will need to fill in the necessary fields on the lease agreement.
Your representative will contact you about this.
Once a move-in date has been decided, the fees required at time of contract will be calculated, and an invoice will be created.
Please pay this amount by the deadline indicated on the invoice.
Signing the lease

Once the lease has been checked for errors and the necessary fees have been paid, the lease agreement is officially finalized.
We will give you your keys on the move-in date.
Please make arrangements with the electric, water, and gas companies by your move-in date.
If you need help with this, please contact your representative.
FAQ
Can I apply if I don't have a guarantor?

You do not need a guarantor. However, you do need to provide the contact information of one Japanese person as an emergency contact.

Can I apply if I don't speak Japanese?

As long as there is someone to translate for you during the process, it's not a problem.

Are short-term leases available?

Leases are possible starting from two months.

Is there a penalty fee if I break a short-term lease?

Short-term leases do not have a penalty fee.

Can more than one person move in?

Up to two people can live in one unit.

Does nationality matter?

Nationality does not matter.

Can I apply if I don't have a fixed income?

As long as you are searching for employment at the time of signing the lease, it's not a problem.

I am a student. Can I apply?

There is no problem. You can apply.

Do I need a Japanese guarantor or emergency contact?

You need one emergency contact at the time of signing the lease.

Are there ever problems between renters of different nationalities?

As long as everyone follows the rules, there are no problems.

When I sign the lease, will I need to purchase an insurance plan?

Based on your review, you may be required to purchase insurance.

Can I apply if I am currently looking for work?

You can apply as long as you find work within two months.

Will my period of stay in Japan affect the review of my application?

No, your period of stay does not matter.

Are corporate leases possible?

Yes, corporate leases are possible.

I can't read a Japanese contract…

We will have someone who can translate (a Japanese person) explain it to you.
Customer reviews
I lived there while on a short-term work assignment.
The room had all the basic necessities, so I had no problems living here on my own.
It was only a 15 minute bike ride to my university, and it was in the middle of town, so it was very convenient.
I have a part-time job in the middle of the city, so being able to walk there was very convenient.
Preparing the lease was smooth and convenient.
I don't have anyone who can act as a guarantor, so I was really glad to be able to apply without a guarantor.
I'm currently looking for a job, so I was really happy to be able to get a short-term lease until I find a job.
There weren't any Japanese people living there, so I didn't have to worry about problems with cultural differences.
The rent is very affordable, so it's easy for students to live there.
I was allowed to move in with a friend, which was a big help financially.
During the lease-signing process, my representative carefully explained Japanese customs to me.I didn't have any problems living there.